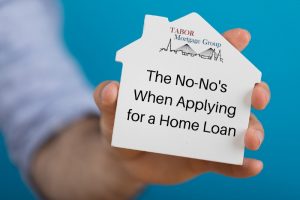 Buying a home is a very exciting time, and we want to keep it that way for you! The home buying process involves checking personal finances such as, credit, income, debt, and other factors. Since these factors determine the loan you will receive, there are 5 things we would like you to avoid so we can keep this process as easy and stress-free as possible for you. 
Do not change jobs. 
A stable and consistent source of income is important to lenders. If you start a new job you may not have a pay stub yet for proof of income.
2. Do not finance a new vehicle 
As much as you want some new wheels, wait until after you close your home. It's best to minimize financial obligations when asking a lender for money.
3. Do not apply for a new credit card
Getting a new credit card can lead to an increase in debt which does not look good when applying for a loan.
4. Do not close any existing accounts
5. Do not cosign for someone else
We want to avoid putting any debt in your name and simply put when you cosign 
their debt becomes your debt.
If you're thinking about making any big changes during your home buying process make sure to talk it over with your loan officer first. Here at Tabor Mortgage we want to avoid anything that could jeopardize or delay you getting your dream home. Give us a call if you have any questions!