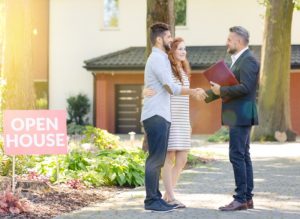 Here are 5 steps you can take to find a real estate agent who's helpful, experienced, and has your best interests as a home buyer in mind:
1. Talk to Tabor Mortgage Group before finding a real estate agent
Your impulse might be to contact a real estate agent first so you can start looking at houses but you actually want to contact a lender first. It's important to get a sense of the mortgage programs available in your area and to get pre-approved for a mortgage. A mortgage pre-approval gives you an estimate of how much house you can afford. Without one, you risk hiring an agent only to look at homes that a lender won't approve you to buy. You'll have more success if you know you're looking at homes within your budget from the start.
2. Talk to your loan officer 
If you meet with a lender first, your loan officer is an excellent resource to finding a great agent. Loan officers work very closely with real estate agents and can give you a different perspective than a review from a past client can. Tabor Mortgage being a local lender, we have lots of knowledge about the local realtors and even some in the surrounding areas. Loan officers are a great resource to use when trying to find your perfect match.
3. Ask family, friends, and neighbors for agent recommendations
We're so accustomed to Googling every question that pops into our heads, it makes sense your impulse may be to do an online search to review real estate agents as well. When it comes to choosing the right agent, nothing beats an old-fashioned word-of-mouth recommendation. Your family & friends will tell you things you won't find on an agent's website, like whether they were responsive to emails and texts, how proactive they were, and their general demeanor. It's important that you trust your real estate agent because you'll work with them closely throughout the homebuying process. The people closest to you have an instinct for the personalities with whom you're most likely to click with to make the homebuying process smooth & enjoyable!
4. Check online reviews to vet potential real estate agents
Here's where a Google search does come in handy when you need to find a real estate agent. Once you've gathered your list of recommendations, spend time searching them online. See if other homebuyers share your friends & families' opinions. An agent who works mostly with people similar to you, in terms of your income and lifestyle needs, may be better equipped to anticipate your preferences and suggest houses that are best suited for you.
5. Meet an agent face-to-face before hiring them
You'll also want to meet with several agents before deciding on one, even if a friend or relative introduces you to an agent they know personally. Just because an agent is a friend of your sister's doesn't mean they're the best agent for you and your home buying needs. When you talk with different agents, ask about the types of properties they specialize in. If you're looking for a small starter home in the suburbs, you don't want to sign on with an agent who typically sells luxury beach front properties. Ask about their working styles as well. Think about what your expectations are for your real estate agent and make sure your interests line up.
Too often, home buyers are so eager to get house-hunting they rush into a relationship with a real estate agent who wasn't really a good fit. Hopefully with these 5 simple steps you are able to find the agent who is the right match for you and your home buying needs. Remember the process starts with us, give us a call whenever you are ready to begin the journey of finding your dream home!